KMazing – Did any of you guys watch the movie "On Your Wedding Day" starring Kim Young Kwang and Park Bo Young? The film was the trending topic early this year and is very in demand that as the two who act as lovers is having to compete for viewer ratings in their respective drama slots that air on Monday and Tuesday at 22:00 KST. Interesting right?
While Park Bo Young played her part in the TvN drama "Abyss" with Ahn Hyo Seop, Kim Young Kwang doesn't want to miss his chance either. He is also taking part in a drama entitled "The Secret Life of My Secretary" with Jin Ki Joo which was broadcasted on SBS. The drama, which has another title "I Love You from the Beginning", premiered on May 6, 2019. The scenario writer for this one drama was entrusted to Kim Ah Jung, who used to work on the drama "Divorce Lawyer in Love" (2015) and "Queen of Ring" (2017). Meanwhile, the director of "The Secret Life of My Secretary" is Lee Gwang Young.
Synopsis
The story revolves around the character, Do Min Ik, played by Kim Young Kwang and also his secretary, Jung Gal Hee, played by Jin Ki Joo. Do Min Ik is a Managing Director of a mobile media company called T & T. Meanwhile, Jung Gal Hee is the secretary of Do Min Ik who has always been told to do many things.
Also Read: First Impression of "The Fiery Priest" – Funny yet Thrilling
https://www.youtube.com/watch?v=WenR2uvJRpA
One time, Gal Hee changed her appearance and pretended to be Veronica Park, the character that should be played by Kim Jae Kyung. Veronica is a former boss of Gal Hee and asked her former employee to pretend during his meeting with Do Min Ik. As a result, Jung Gal Hee, who had fallen in love from the beginning to Do Min Ik, also responded to the likes of Do Min Ik. Unfortunately, the man thought that Gal Hee was the real Veronica Park. In fact, Veronica instead approached Min Ik's friend, Ki Dae Joo, played by Goo Ja Sung.
Cast and Characters
Kim Young Kwang as Do Min Ik
The character of Do Min Ik is the smart, leader-minded Mobile Media company, but unfortunately, he can't do anything without his secretary. Even though Min Ik always seems to be annoying with his childish act, Gal Hee always responded with a smile, calm, and cheerful.
The twist is that Do Min Ik actually has a visual impairment. Although on the present timeline he cannot recognize people's faces, he was actually used to be able to easily memorize faces with just one look, even to the detail of their features. That's why many people are uncomfortable when Min Ik scanning their features because they feel like they are undergoing an MRI scan. Funny, huh?
Also Read: The New Generation of Beaut in K-Drama
But due to something, Min Ik was unable to recognize people's faces. In fact, the man could not recognize the face of his own parents. Strangely, the only person he could remember was "Secretary Jung". Because, Gal Hee always wears the same clothes, always has the same hairstyle, and also sits in the same place.
Jin Ki Joo as Jung Gal Hee
This woman is the secretary of Min Ik who never complained when she was asked to do anything by her boss. Gal Hee actually has been fond of Do Min Ik for a long time. In fact, Gal Hee even agreed to pretend to be Veronica Park.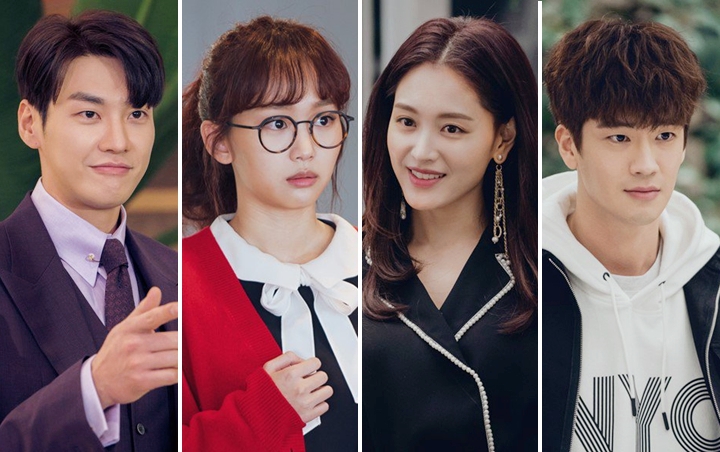 Kim Jae Kyung as Veronica Park
Veronica Park is the CEO of Cinepark which has a scary personality. She is also a former boss of Jung Gal Hee. Unfortunately, while Min Ik thought he was falling in love with fake Veronica Park, the real Veronica fell in love with Min Ik's friend.
Also Read: The Most Awaited K-Drama of 2019
Koo Ja Sung as Ki Dae Joo
Ki Dae Joo is one of the leaders in the TT. He is a gifted man and the son of former father secretary Do Min Ik. Dae Joo is also a good friend of Min Ik. One time, an heir to the Group Park fell in love with him and made all his world become more attractive.
[Our ]Temp Opinion
Now, let's talk about what is interesting in this particular drama through the perspective of Korean drama lovers. At a glance, if you have watched "What's Wrong with Secretary Kim" and watched the drama titled "The Secret Life of My Secretary", surely you will immediately think that this drama will actually kinda lead to the drama starring Park Seo Joon and Park Min Young. It's inevitable at this point since "What's Wrong with Secretary Kim" is triggering the whole new pattern in the office lovey-dovey drama.
Also Read: Three Pretty Noonas Who Stun Us Every time They Took a Role in K-Drama
This is because the model of the relationship between the boss and the secretary is also the main theme of the drama. But it turns out that if you look further, this drama is really different from "What's Wrong with Secretary Kim". The reason is that while drama "What's Wrong with Secretary Kim" hide the story of the phobia about the rope because it was kidnapped, on this SBS drama, the plot centered on the story of how Do Min Ik suddenly could not recognize faces. It's kinda the same on the top but actually different on the inside.
Of course, the story plot can still be developed in various directions and move the audience to a curious state while watching. I personally have watched four episodes and there are a lot of things that I am still curious at. There are several questions that keep floating on top of my head right now, such as why Gal Hee's face is the only recognizable face? Is the reason as simple as what has been stated above or is there another incident? Then why does Gal Hee pretend to be Veronica Park, does she have a hidden intention or is it just to help real Veronica?
Also Read: Five Reasons Why We Love "Strong Woman Do Bong Soon"
The cloud of judgment will inevitable coming up as the secretary-themed drama is basically gonna be judge under the likeliness of the story and the comparison of the success of "What's Wrong with Secretary Kim", for now at least I kinda see the spark of the potential twist but if you are the avid fans of "What's Wrong with Secretary Kim", I personally believe that you can skip this one.