KMazing – If we take look at the list of modern K-Drama recommendations that have unique stories to watch, surely "Strong Woman Do Bong Soon" will be there. The reason is, the drama is visually studded with the main cast and is able to attract the audience with tense and funny plots. Well then, let's get on with the review of Strong Woman Do Bong Soon!
Drama Details 
"Strong Woman Do Bong Soon" is a mix of fantasy, a romantic comedy with thrillers written by the famous writer, Baek Mi Kyung. In addition, "Strong Woman Do Bong Soon" was directed by Director Lee Hyung Min and aired on JTBC network. The drama, which has 16 episodes, starts airing from February 24 to April 5, 2017.
Also Read: First Impression of "The Fiery Priest" – Funny yet Thrilling
Cast
As for the cast, "Strong Woman Do Bong Soon" put on Park Bo Young as Do Bong Soon, Park Hyung Shik from ZE: A as Ahn Min Hyuk, and Ji Soo as In Gook Do. Do Bong Soon is a super-powerful woman who can lift very heavy loads many times over from her small figure. Meanwhile, Ahn Min Hyuk is a well-known director of a company and In Gook Do is a police officer who is also Bong Soon's close friend.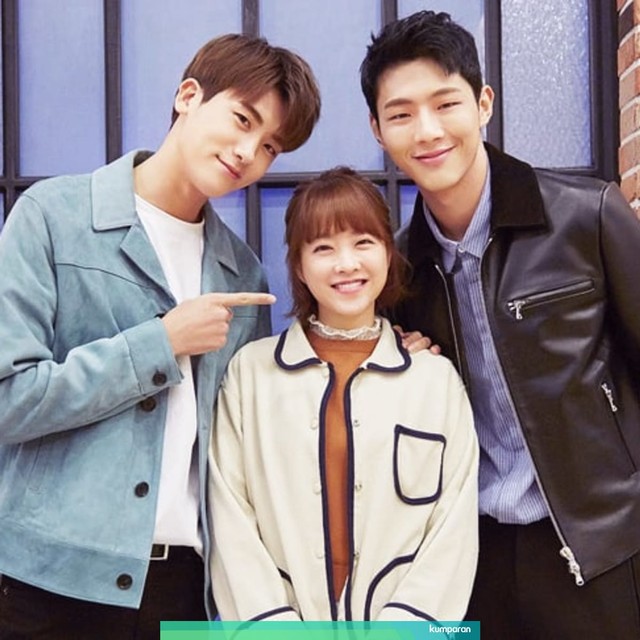 Together, the three of them created this unique and romantic plot line that pulls the audience in each episode. The chemistry that is portrayed perfectly between the three main casts is successfully played the imagination that the couple in the drama would become the real world couple and dubs Park-Park Couple.
Plot
Do Bong Soon has superpowers that are inherited from her family. She also has been fond of In Gook Doo for a long time but has not dared to say it. Once, Bong Soon was involved in an incident with Ahn Min Hyuk and long story short, she finally got the job as the bodyguard of the CEO of the famous video game company.
After the incident, Bong Soon and the other two work together to find the kidnapper who also often terrorized the people around her residence. The time they share together and the story unfold between them will also make put Bong Soon in a dire situation in order to choose the one she truly loves, is it Min Hyuk who is annoying but gentle or Gook Do who is always attentive?
Review Strong Woman Do Bong Soon
It's not without reason that "Strong Woman Do Bong Soon" has become a popular drama. The drama is not only trending in its home country but also in various other countries. Well, what is it then that makes the Strong Woman Do Bong Soon is so attractive? Here are KMazing's five takes on "Strong Woman Do Bong Soon"
Also Read: Three Pretty Noonas Who Stun Us Every time They Took a Role in K-Drama
Anti-Mainstream Plot
While most dramas create the story based on the main female character that is always weak, need to be protected, fragile and feminine, "Strong Woman Do Bong Soon" is in a very different realm. The female character of this drama protects the male character. In addition, the story is also unique, namely revealing criminal cases that are peppered with funny and romantic scenes. During the time this drama airs, there were still just a few dramas that can combine these elements flawlessly.
Good dan Immersed Acting
Park Bo Young is one of the actresses that can be labeled as the A-Class actress in K-Drama. The reason is that all the roles that were tasked on her are successfully done. After previously playing as a shy and quiet woman with Jo Jung Suk in the drama "Oh My Ghost", this time Park Bo Young got a different role to play. As Do Bong Soon, Park Bo Young have to act as a strong and cheerful tomboy girl. However, there are times when Park Bo Young also need to picture the sad emotion in Bong Soon and she did it perfectly.
https://www.youtube.com/watch?v=-3kGNfUhzNE
Park Bo Young might be one of the best out there but she can do it alone and Park Hyung Shik is the best combi that is able to catch up with his senior. Although he used to be an idol, Hyung Shik was able to dismiss the notion of the idol's acting quality and managed to bring out the best of the annoying role of Ahn Min Hyuk. In fact, thanks to the character he played here, he is increasingly got a lot of offers in movies and television series.
Various Genres in One Drama
As explained earlier, "Strong Woman Do Bong Soon" combines various genres and that is precisely the attraction. Usually, criminal-themed dramas will override the element of comedy because it can disrupt the scary image that it is trying to build. But this time, the production even worked on a crime drama but also added elements of comedy, romance, and thrillers in it.
Also Read: The Most Awaited K-Drama of 2019
In fact, "Strong Woman Do Bong Soon" successfully featured various entertaining scenes, starting from the injustice between Min Hyuk and Gook Do, small quarrels between Bong Soon and Min Hyuk and as the epic and funniest scene is where Gook Do and Min Hyuk's drunken scenes.
But then again, the tension is getting higher as the thriller genre is raised. You can hold on your breath because there are a lot of tense scenes throughout the drama especially when the kidnapper was in action.
Family and Friendships
The superior points of K-Drama, in general, is that it always puts forward that humans are not always evil. There is always a good and bad side in someone. In addition, Korean dramas are trying to picture and display the importance of a family relationship and friendship in a human's life. That's why Strong Woman Do Bong Soon's writer also put on a lot of morale and humane impression on the story.
One close example from the story is that even though Bong Soon's mother is this annoying and nagging mom, she is always there for her daughter. In addition, real family relationships don't always get along. Bong Soon often fights with her parents, yells in annoyance, but in the end, they will open up to each other and express their hearts.
Friendship is also a huge thing in this drama. The close bond between Bong Soon and Kyung Sim definitely makes the audience jealous. They are so close that Kyung Sim is more like another son in Bong Soon's family.
Also Read: The New Generation of Beaut in K-Drama
Sweet Love Story
If you are like me, then you guys might have ship the relationship between Bong Soon and Min Hyuk and were a lil bit annoyed by the gooky attitude of Gook Do regarding his feelings. However, one thing that can be learned from this drama is that there are times when we really have to know when is the right time to acknowledge someone's feelings.
https://www.youtube.com/watch?v=hT7B80dVqs0
There are times when we are afraid to spill the inside of our heart and regret it when that person is steadying their relationship with other people. Besides that, what Gook Doo said is also exemplary, guys. Here, even though Gook Doo likes Bong Soon, he is able to let go of his feelings for the happiness of the person he likes. Instead of hatred, he keeps on being a good friend of Bong Soon.