KMazing – You guys maybe already know that KBS2 will broadcast a cool drama that took the genre of law that starting to air on 25 April 2018, right? The title is a Suits that tells the story of a legendary lawyer with a young "fake" lawyer who has no degree in practicing law. This drama is adapted from the American TV series which is also titled Suits, so this Korean version is definitely not going to lose the cool impact. So, let's cut to the chase here, Why you have to watch this series? Here are the answers…
The Popularity of the Original Series
The original series of Suits that Aaron Korsh directed over the years that broadcast in American cable TV, Universal Cable. The story revolves around a law firm in New York City focusing on the character of Mike Ross, a talented drop out student and initially working as Harvey Specter's legal partner even though he has never studied law. Since broadcasting its first season in 2011, this popular series has gained many awards. Suits so far have seven seasons, so you can expect a lot in the Korean version!
https://www.youtube.com/watch?v=GD4YQaMq63M
The Bromance Relationship
The Suits main actors are played by Jang Dong-gun and Park Hyung-Sik, two different generation of actors. Both will collaborate in this drama with the same role as a lawyer. Dong-gun has previously given Hyung-Sik's high-ceiling praise because he thinks the ZE: A personnel is really great. Interestingly, despite Jang Dong-gun's age, the relationship between the two are such a relax and very comfortable without any tension at all. There are many scenes where they both fight and argue, but they get close again after filming the scenes.
The Long Awaited Comeback of Jang Dong-gun
The main attraction of Suits is Jang Dong-gun's comeback after six years absent from the small screen. He plays as Choi Kyung-Seo, a great lawyer from a top law firm that already has everything and does not envy anyone.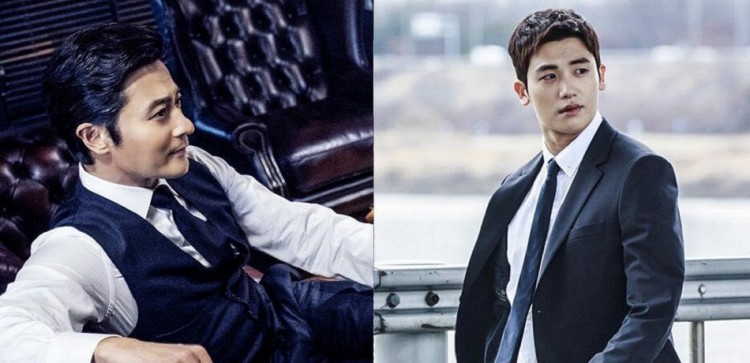 And of course, The Charm of Park Hyung-Sik
If in the previous drama Park Hyung-Sik appeared as the CEO of a slightly eccentric gaming company (Strong Woman Do Bong Soon), this time he tidied his hair to enter the world of law. His role is Go Yeon-woo, a genius young man with a sharp memory. Surely the presence of Hyung-Sik's will be a great magnet for women audience.